18.12.2019

Message from David Lokkerbol County Coaching Co-ordinator

click here

13.12.2019

CONGRATULATIONS to Kylie Jenkins of EGHAM who has been selected to play in the BIIBC International Series in March 2020 .
2.12.2019 ***COMPETITION DRAWS FOR 2019 ADDED ***

13.8.19 WEY VALLEY PARKING Every driver must obtain a ticket from the machine, just enter your registration number, this gives 4hours free, display the ticket on windscreen If a player arrives at 2.05 for 2.30 game a 4 hours ticket would cover as restrictions stop at 6pm Players/visitors staying for more than 4 hours obtain
a stamped all day free pass
from Captain, Robert or Nickie and also put in your windscreen . (NB if the machine is not displaying any message press the small white button to the left of the Large Green Button to activate)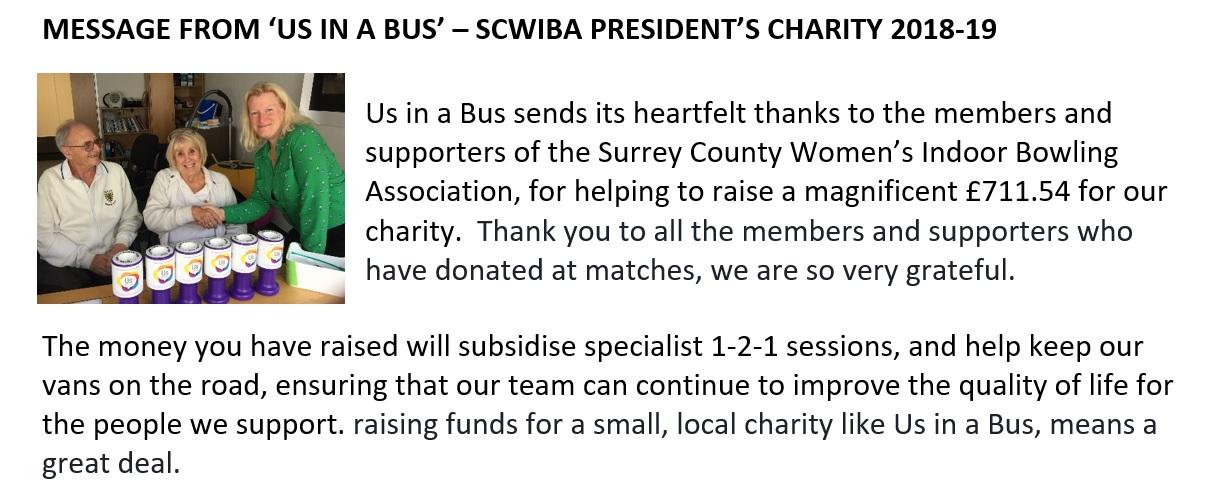 NEWS FROM 2019
5.8..19 COACH BOWLS courses

added see SUPPORT or Click Here
6.04.19

CONGRATULATIONS to SUTTON who won the YETTON PLATE

28.3.19 COUNTY COMP FINALS RESULTS COMPLETED -

CLICK HERE

*
17.02.19

CONGRATULATIONS to DONYNGS for being Runner -up in the 2018 Love Fisher Brown Award

which was created to recognise clubs that provide disabled participation opportunities for their bowlers (see EIBA news from 4th February).
4.12.18

CONGRATULATIONS to Kylie Hampton (Egham) who has been included in the team to represent England in the BIWIBC International Team 8th to 10th March 2019 (England won overall).
Mary Ramatallah
Sadly we advise you of the passing on 1st March 2018 of
Mary Ramatallah, previously of Egham who had been both SCWBA President in 2007 and SCWIBA President in 2001/2.